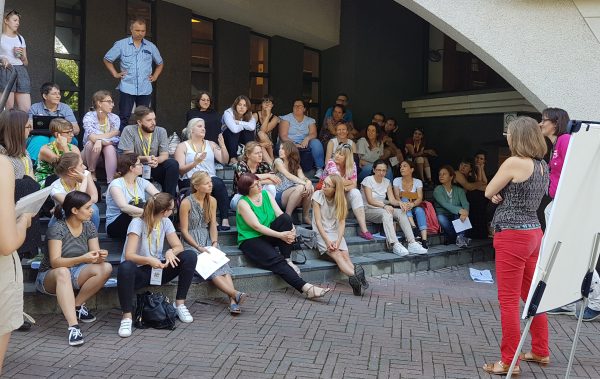 The Young Event Management Programme – YEMP was a two-week training course including lectures and training on the job. After a selection process, 25 young people from different countries were invited to participate in the programme.
The young YEMPers, fully included in the organising team, were integrated into a big festival team with roles of responsibility in the various offices of the festival, under the guidance of two coaches, one Estonian, and one international.
Schedule of the training course:
arrival in Tallinn on Friday, 20th July 2018
21st – 22nd July: lectures and workshops on management skills
and preparing the festival
23rd July – 4th August: training on the job for
the final preparation and organisation of the festival EUROPA CANTAT with the support from two coaches:
23rd – 26th July: preparation phase
27th July-4th August: Festival
The participants of the course worked in one of the departments of the festival, taking responsibilities in the field of music planning, concert organisation, information services, communication, production, etc.
5th August: evaluation meeting, exchange of information and experience,
final coaching
6th August: departure
Selected young managers did not need to pay a participation fee but will had to cover their travel expenses. Free food and accommodation was provided by the festival. .
Candidate profiles:
candidates had to be between 18 and 30 years old
they were studying cultural management OR
were interested /experienced in event management
they had to be motivated to learn and develop
their skills in international event management
they had to be able to communicate well in English
20 YEMPers came from the choral field
5 YEMPers were chosen among candidates suggested by STAMP project partners, representing different parts of the music sector
Special feature of the 2018 YEMP:
The 4th YEMP was part of the project STAMP – Shared Training Activities for Music Professionals.
In the frame of STAMP, the partners in the project were able able to propose candidates from outside of the choral field, and five of them were included in the 25 YEMPers. In addition the Estonian Academy of Music and the European Choral Association – Europa Cantat cooperated with the EUROPA CANTAT festival and offer a training workshop for trainers, presenting YEMP as a win-win-model for the training of young managers. Further features in connection with STAMP were a more intensive online preparation of the YEMP-participants which included a series of streamed webinars prepared in the frame of STAMP.
You want to know more about YEMP? Read the detailed guidelines on what is a YEMP, how it can be organised and how it can be adapted to different realities. In the annex you will find a toolbox for (young) managers.